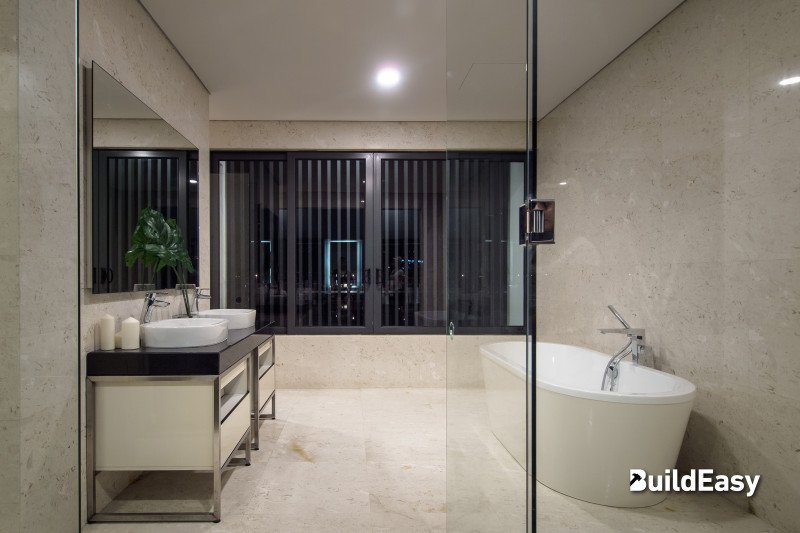 Bathroom Makeovers on a Budget
What's Trending?
by Admin
---
If the cost
of a major bathroom remodel isn't in your budget, simply updating a smaller aspect of your bathroom can still have significant impact. New tile, cabinets, lighting or plumbing fixtures can give the room a whole new style. You don't need a large budget to transform your bathroom into a relaxing, cool space. There are plenty of ways to renovate and redesign on a budget.
Keep in mind, updating or adding a bathroom to your home is a home improvement project that adds value. In other words, you'll regain a remarkable portion of costs when you sell your home.

1. Use cost-effective materials


The first tip to always remember, using materials that are affordable that look like the real thing. One of the main examples is flooring. If you like the look of marble but can't afford it, there are many replacements in ceramic tiles. The same goes for timber flooring. We know how expensive that can get, so the perfect replacement is vinyl flooring. Its waterproof, easy to clean and there are so many design and colour choices in the market.
2. Spruce up your mirror


Most people have frame less mirrors in their home, whether you bought the house with it or you bought the mirror yourself as it's the most affordable option. The easiest and most affordable way is to add a frame to your mirror. When you upgrade your mirror, it will instantly transform your space making it appear bigger and spacious.


3. Add shelving


If you have any empty wall space in your bathroom, take advantage and add storage to it. Opt for open shelving and it is easy, more accessible and can also be a feature in the bathroom by itself. Use it to store your towels and everyday items!


4. Tiles tips and tricks


If tiling your entire bathroom is out of the question, select certain important parts to tile up instead. For example, tiling up the flooring with a different colour or pattern tile to make it the main feature in the bathroom. If your bathroom tiles are still in good condition, the suggestion is to re-grout as that is the first thing that becomes moldy or discoloured.



5. Switch Out Your Shower Curtains


If your house comes with an open shower/bathtub, adding a shower curtain will be the most affordable way. But worry not, there are alot of chic curtains in the market that you can add to your bathroom, adding an artful element to the overall space. This itself can have a big impact on the overall look.

6. Plants all the way


Indoor plants can be used in pretty much all rooms in your house, so why not add them into the bathroom? They will make the space look better instantly. Some plants have the capability to grow in the bathroom because of the humidity, and they can also clean the air. Practical and environmental, do you need anymore reasons?
If you need to know more, contact us
here
#renovation
#bathroom interior design
#bathroom design
#bathroom
#bathroom makeover
#bathroom renovation
#budget bathroom makeover
#budget makeover
#budget bathroom